Technology in early childhood education: how should schools cope?
It is undeniable that our children are already being born immersed in a digital universe. In this sense, the use of technology in children's education should be an ally to arouse their curiosity and stimulate their motor development and language.
Its use must be intentional and planned, and its focus should always be on improving the quality of learning. Did you know that using technology is one of the factors that parents consider when choosing a school?
In this post, you will discover the reason why it becomes so necessary in education from an early age and you will know several interesting ways to include it in everyday school routine. Continue reading and check it out!
Why use technology in early childhood education?
This is considered the most important stage in the development and learning of the human being, so it is necessary to pay special attention to it. Students at this age have been known to be the generation of digital natives.
Technology has been a part of children's lives since a very early age. Even before they can read or write, they already have mastery over many technologies. These skills and competences are acquired outside the school environment. Not encouraging their use in schools is denying their presence in the lives of students, which is a big mistake.
Its use in the process of teaching and learning aims to act as a partner in education, making it more modern, making teaching materials more attractive to students and stimulating learning.
It should be part of the school's PPP (Political Pedagogical Project) and be oriented in a way that is appropriate to the child's age and development. In addition, one must take into account their cultural and social context. Positive, safe, responsible and inclusive behavior is essential to a successful outcome.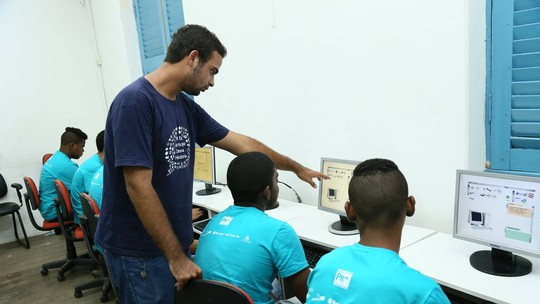 Educators should be open to new experiences. Schools have a responsibility to provide the necessary training so that they use education technologies correctly.
HOW TO USE THE TECHNOLOGY TO FILE SCHOOL DOCUMENTS (We recommend this article)
How to insert technology in early childhood education?
There are several possibilities for using technology in early childhood education. We will now present some tips on how to insert it into children's learning.
Use social networks
It is very important to educate students about the dangers of excessive exposure on social networks. The risk of making public publications and accepting friendships of unknown persons should be strengthened for the safety of the child.
However, it is possible to use social networks in an educational way. The teacher can create profiles for the group or for a project and use them to inform others about what their students are learning. They will like to publish their research and findings and will engage in their work.
Take "pedagogic" photos
Taking selfies just to please one's own ego may not be the goal of the photos. Students can be encouraged to take pictures that are intended to demonstrate content that has been studied in the classroom.
These photos can be placed on panels at school or in profiles appropriately crafted for this purpose. The important thing is that there is always a reflection behind the images. This reflection will help children develop their critical sense and autonomy.
PEDAGOGICAL MANAGEMENT: EVERYTHING YOU NEED TO KNOW (Recommended reading)
Teaching to use technology
Many parents and teachers still find it better to ban the use of technology in schools, after all it is easier to prohibit than to teach them to use it in a healthy way. Knowing to make use of all the information that is available on the internet is essential.
We must keep in mind that nowadays virtually all that the students need for the study is in a cell phone connected to the internet. We can not require them to use paper dictionaries, for example. This was true in our time.
When the teacher asks for a research assignment, the student often ends up doing a "copy and paste" job – precisely because he does not know what to do with the information he has obtained.
It is the teacher's role to teach students that technology is a tool to aid their learning. One of the tasks is to teach you to recognize if a website or information is reliable or not. In addition, the student must learn that when a research is done, his content must be reported by him in order to show what he has learned from it.
Provide readings online
One of the advantages of technology is to enable students to access books or stories without having to buy them. This facilitates access to reading. Many online books are made available free of charge by publishers, bookstores, and virtual libraries.
Work with videos
This type of work may not be new if you consider presenting videos so that students understand the content better – but it can go further. Students can produce their own videos or be protagonists of them to explain what content they have learned.
Make use of gamification
This is a way to turn the quest for knowledge into a game. And which child does not like a good game, does it? In it, the student must follow steps to advance and reach the ultimate goal. Thus, learning becomes a challenging challenge to be overcome.
Assist assessment and communication
The teacher can evaluate the student through games and participation in projects carried out with the aid of technology – not just traditional methods. This allows the teacher to make a more comprehensive and fairer assessment, considering that each student has a different ability.
EVALUATION OF LEARNING OF STUDENTS AND TEACHERS (Highly recommended reading)
We know that parents today do not have much time to devote themselves to schooling their children as they would like. The use of technology can allow an approximation between the school and the parents, providing a better communication between them.
Technology in early childhood education helps to arouse curiosity in the student through strategy and imagination exercises, increasing their interest in the activities. Children are naturally attracted to stories, videos and games. So why not use them for education?
One can not forget that technology in early childhood education should be used to collaborate with learning, and that it can never replace traditional games, physical activities, contact with nature and social interactions so important for the development of children .
Now that you've discovered how important it is for technology to be a part of this phase of education, be sure to read our article on the five trends for the school of the future!